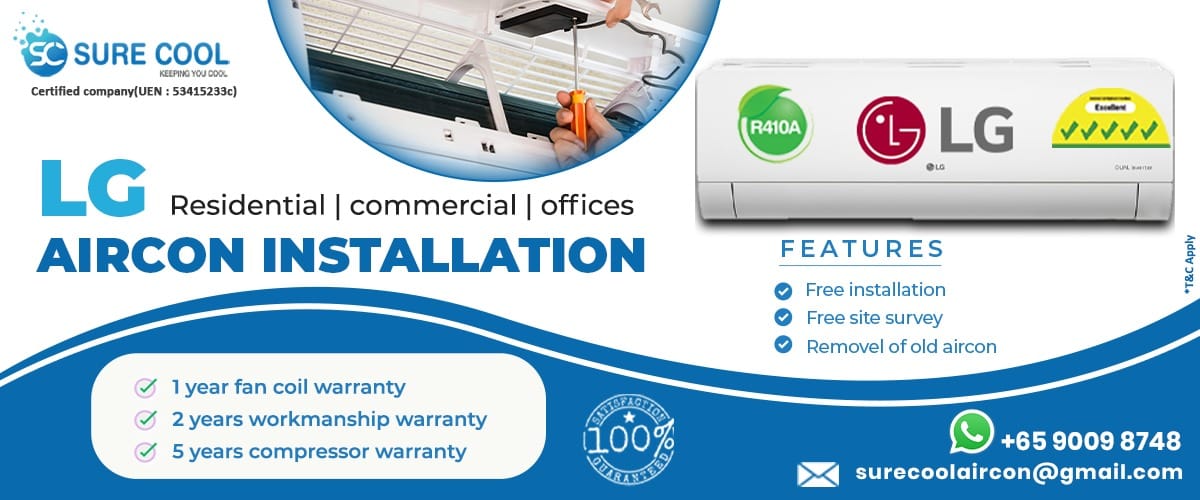 LG Aircon installation
Surecool is here to provide the best LG aircon for all customers in Singapore. We are a professional team of experienced and certified aircon installation specialists, and we support our service in a wide range in Singapore. We provide LG aircon at a reasonable price You can be sure to get the best value for your money and we're always on hand to provide you with a free quote. So if you're looking for a reliable and affordable LG aircon installation company in Singapore, be sure to check out Surecool!
About LG aircon : The LG air conditioner is one of the most popular options on the market. If you are in the market for a new air conditioner, you may be wondering the LG air conditioner is the right choice for you. LG aircon is a central air conditioner that is available in a variety of models and also available to split type of aircons. So, that you choose will depend on the size and models based on your home or office. And it is  very energy efficient aircon, which is one of the reasons that it is so popular. And also its very quiet, making it a great choice for those who want to keep the noise level down in their home / office. When it comes to installation, the LG air conditioner is very easy to install. So, If you are looking for a new air conditioner, the LG air conditioner is a great option to consider. It is energy efficient, quiet, and easy to install.