is your aircon not working properly, and not cooling? do aircon chemical overhaul service for your better aircon performance and cooling efficiency. we are the best aircon service company in Singapore. our technicians all are well trained and experts in air conditioner servicing. if you are looking best aircon service provider in Singapore choose us (surecool). we provide 90 days workmanship warranty after the service. when you are using your air conditioner 8 hr/per day do the regular check-up with aircon experts, it's prevents from the major issues.
Book your service appointment with us
Chemical Overhaul Price
1 unit -$90
2 unit -$180
3 unit- $270
4 unit – $360
Altogether destroys germs, shape, microscopic organisms and smell
Keeps stopping up of AC from soil, form and microscopic organisms
Improve generally speaking productivity and machine life expectancy
Clean AC will bring about cost investment funds and a more secure condition for the tenants.
Fresh and clean air

Longer aircon life
Reduced electricity bill
Fast and better cooling
No water leak problem
Scope of Chemical Overhaul:
Disassemble of the fan loop unit
Disassemble electronic control and seepage gadget
Concoction cleaning of fan loop unit and parts
Vacuuming of the seepage framework
Charging in of refrigerant
Check AC control and indoor regulators
Test and commission framework
What problems arise, if the Chemical Overhaul is not done?
Blockage of the vents due to accumulation of dust particles

Blockage of drainage pipe it cause water leak
Damage the evaporator coils
Fan bearing not working
Air filter fault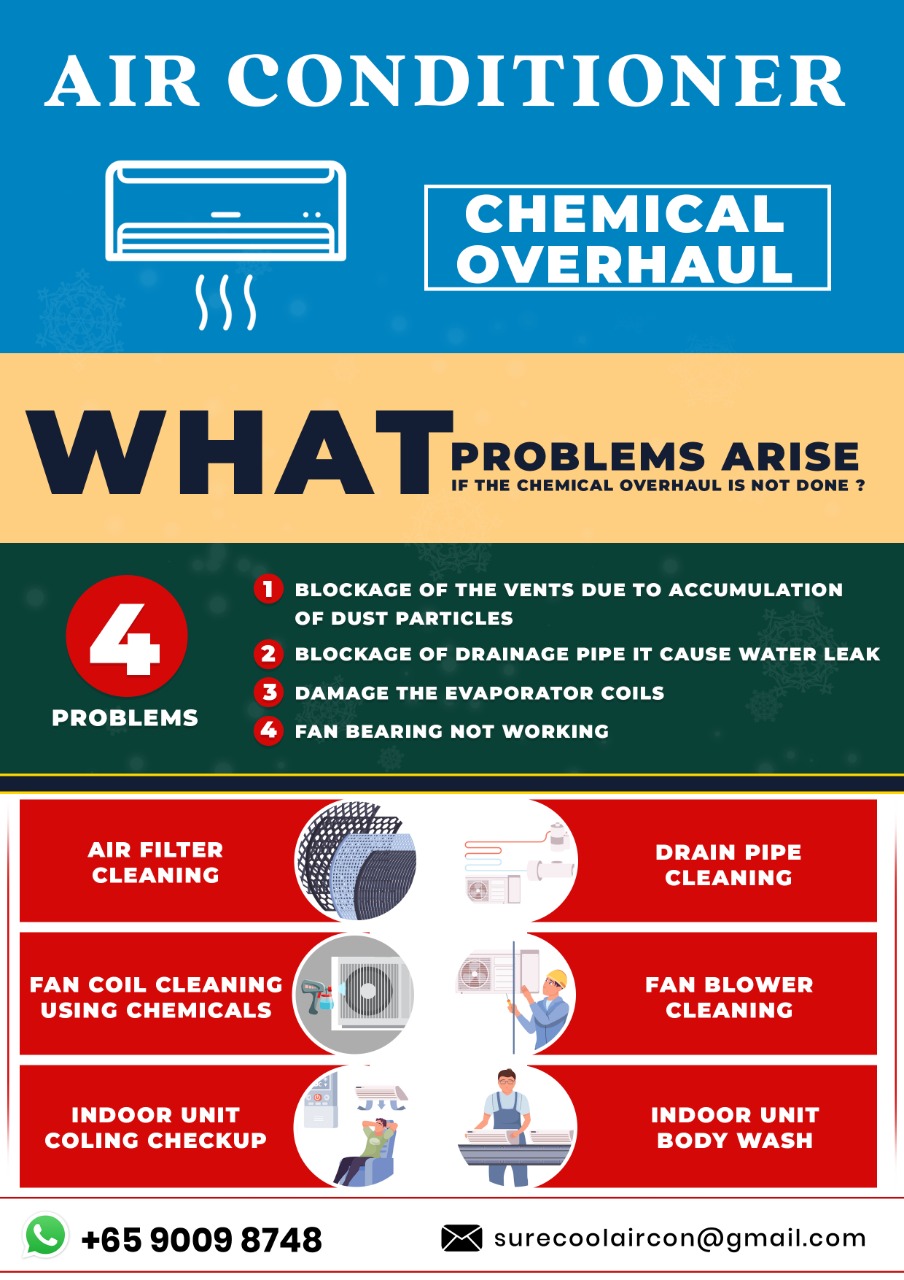 What is Fully Dismantling Chemical Cleaning?
Air cond Chemical Overhaul / Fully dismantling chemical cleaning is the Same process, but the telling is different. Overhaul Process will clean the entire aircon unit (Fully dismantling the aircon unit) with an appropriate chemical solution. The chemical solution fully cleans the dirt, dust, etc., into the aircon unit. After cleaning, you might see the new air conditioner unit. 
The chemical overhaul aims to get better performance from aircon parts and so on. When you fully dismantle the aircon unit, you will see the difference inside and outside of the aircon now more than ever before. It stands for giving several advantages for saving money and saving your aircon for long years.
Do you want to save your aircon for Long time?
Everyone Expects to keep the aircon for long years being clean with the best performance, right? Surecool is here to help you with that by way of Aircon cleaning.
Our experts are specialists in the aircon field. So they will Professionally handle the chemical solution and after servicing your aircon to give more benefits as well. Surecool ready to do your aircon needs always for you to fulfill.
Why do I need to go for an Aircon Chemical Overhaul?
If you want to expect better air cooling?

If you want to avoid unexpected aircon parts fault issues?

If you want to save your aircon for countless years?

If you want to save your electric charge?

If you want to prevent water leaks and Noise issues? 

If you want to avoid circuit connection errors?

If you want to reduce your aircon repair cost?

If you want to avoid Bad odors? 

If you want to Save your Internal components parts of the aircon?
The above aircon expects what you want to need; You can go for a chemical overhaul service to get what you want to expect from your aircon.
What does include in  Chemical Overhaul Service Process?
is overhaul service will dismantle the entire aircon and Thoroughly clean it by using chemical solvents.
The It process includes are:
Fully dismantling the air conditioner 

Will clean the external Panel and internal parts using chemical

Need to clean the drainage pipe to remove clogged dirt and dust

Need to clean the air filter, cooling coil to get the cooling efficiency

Check the refrigerant level (If low, need to top-up the gas)

Reassemble the entire aircon unit and check the circuit connection as well
Aircon to help avoid the high temperature for this hottest place. You need to go to Aircon Chemical service to save your aircon, and you might stay away from high temperatures as well you could not face big trouble arising from your aircon.
Benefits of chemical overhaul service?
Surecool technican's are well trained in aircon cleaning. We will do better service for saving your aircon. When you are completing the AC service, We guarantee to get the best aircon performance.
We will fully clean your entire aircon unit.

After service, you could not see any dirt, dust, Alage, rust, etc.

The stinks (bad odor) will go hide

Drainage pipe will get without clogged dirt. (for getting cooling effectively and avoid water leak issue)

Completely you can save your money by preventing aircon problems in future

Preventing a lot of error code issues 

Improving air-cooling efficiency
The above benefits are you will surely get after you have done aircond service.
If I Not done the AC Chemical Overhaul? What are the problems I would chance to face?
You can lose your aircon

Your electricity bill will be an increase

You will lose your money in the face of several aircon issues

Rust, stink, dirt, dust, and so on, might give the health hazards

Internal components aircon parts may chance to broken

Water leak, noise issue, the blinking issue will be arise 
If you are not ready to face the above aircon problem? You can get the chance of Air conditioner servicing for preventing aircon problems and Will help to give more energy efficiency.
Why does SureCool Provide Aircon servicing at reasonable price?
Surecool will help you not face a lot of aircon problems and save your aircon for long years. Singapore is the hotest place to save you from high temperatures, and We save your aircon to prevent the aircon repair. 
Why do more people choose us?
Easily booking the appointment 

Licensed and certified 

BCA Certified experts

Best offers for each service

Best guaranteed warranty

Reasonable price
Frequently Ask' s Questions
Why should we hire your company for chemical overhaul service?
Our technical experts will quickly dismantle your aircon and properly  service it and assemble it quickly.
How many days do you have a warranty?
90 days workmanship warranty available for overhaul service.
Is there any extra cost I have to pay?
No, you don't need to pay any extra cost.
Get
Aircon service Appointment
Nearby Aircon Servicing, Singapore