Singapore is a tropical place so it is most important to install the aircon in homes, offices, and also commercial places. but currently, many aircon Brands are selling in the Singapore aircon markets. So you have to search for the best aircon on the website and analyze which one is the best aircon Brand for your place of HDB, condo, Resale Flat, Bto, etc. Here we suggest the 4 best aircon brands for aircon Installation in Singapore. These 4 aircon Brands are fully suitable in all areas like residential and commercial.
Top Selling Aircon Brands in Singapore2023:
The Daikin is one of the best and most trusted aircon Brands in Singapore. because Daikin has more advantages and Features to make a comfortable life. and It has a single split and Multi-split air conditioner. The split aircon is the best choice for home and another type of centralized aircon is best for commercial to get the best cooling efficiency.
Single split Aircon – Single Fan coil and Single Compressor.
But it is best for small size rooms.
Multi-split aircon – Two or more than Fan coil and one compressor connect. With the benefits of a Multi-split aircon, we could easily install the aircon into two or three rooms by connecting one compressor. This aircon produces air it is also very cool and healthy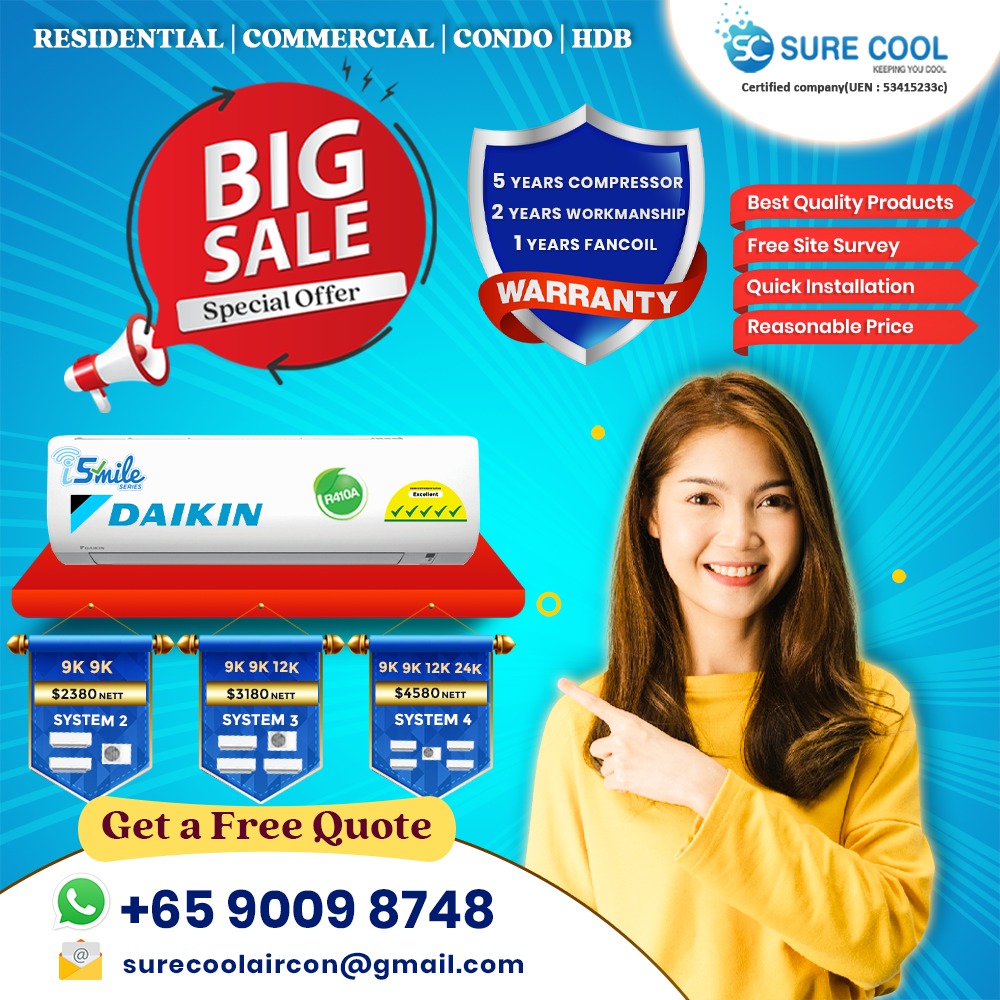 Features of Daikin
WIFI Configuration system
Power control system
Mitsubishi is a dependable aircon brand in Singapore. It has two models Mitsubishi electric (Starmax) and Mitsubishi Heavy Industries. The most searched model is Electric. Because it will be used smoothly and easily. And also more energy saving aircon. We could get the Performance for a long time by proper aircon servicing. So compared to Mitsubishi heavy industries, Electric (Starmex) is ideal.
Features of Mitsubishi
No maintenance issue
Easy to clean
Panasonic is one of the most generally utilized aircon in Singapore. Panasonic air conditioner uses the latest technologies to combat the impact of climate change and provide a comfortable living environment for users.
It has Nano e technology and an Economic sense to make a very comfortable life.
Features Of Panasonic
High Efficiency
Efficient cooling
Midea aircon is one of the most reliable aircon in Singapore. It is the cheapest and best aircon conditioner. Currently, Midea is selling new models to make execution easier.
Features Of Midea
Eco friendly
Energy saving
Affordable cost
The over 4 Top aircon Brands are the most ideal decisions for aircon Installation In your Place. These 4 brands are more energy-saving and Included the best guarantee highlights. sure cool aircon company is one of the recommended aircon companies in Singapore. If you want to install the aircon for your places, just make one call for us to get the best aircon installation at a reasonable price.
Book an Appointment Call or What's app: +65 90098748